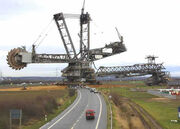 Awesome is an adjective that implies excellence, outstanding quality, and brilliant majestic magnificance. It is often used subjectivly, though it implies universal acceptance.
The following is awesome:
Edit
God
The universe
Huge machines
Heavy Metal music
Cyborgs
Tanks
Teenage Mutant Ninja Turtles
Pro Wrestling
Sex
Beef jerky
The following is not awesome:
Edit
A major in philosophy
Hippies
TYPING IN ALL CAPS LIKE THIS
Cancer
Truck nuts
The blue screen of death
Ad blocker interference detected!
Wikia is a free-to-use site that makes money from advertising. We have a modified experience for viewers using ad blockers

Wikia is not accessible if you've made further modifications. Remove the custom ad blocker rule(s) and the page will load as expected.