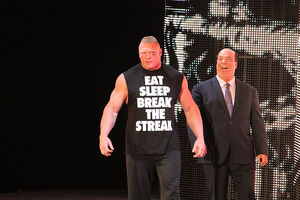 Brock Edward Lesnar is a professional wrestler who was formerly a football player, mixed martial artist, and ameteur wrestler. He held a WWE title four times, as well as a UFC heavyweight championship and an NCAA Division One Heavyweight championship.
After years with the WWE, Brock departed from the company to pursue his dream of being a football player. Before his departure, Brock had a Wrestlemania match against Bill Goldberg, who himself was formerly a football player. Goldberg won the match, which was officiated by Stone Cold Steve Austin. Brock didn't get very far in his football career, so he returned to pro wrestling, and eventually returned to the WWE. On April 6, 2014, Brock Lesnar became the first person to defeat The Undertaker at a Wrestlemania event, bringing an end to The Undertaker's streak at 21-0.
In-ring character
Edit
As a professional wrestling character, Brock typically represents a strong, confident persona with heavy elements of sadism (he often claims to like causing pain).
While other professional wrestlers often train at gyms, Brock was brought up on a farm. While his brothers liked watching TV, Brock made a hobby of working out while listening to heavy metal music. Brock also wrestled competitively at a young age, when he would compete with and overcome opponents older than himself.
Ad blocker interference detected!
Wikia is a free-to-use site that makes money from advertising. We have a modified experience for viewers using ad blockers

Wikia is not accessible if you've made further modifications. Remove the custom ad blocker rule(s) and the page will load as expected.