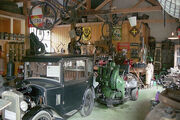 A garage is a facility intended for the placement of one's automobile when not in use. The garage is a fixture of many homes, though it is sometimes a fixture of other buildings, and sometimes public parking is available in large garages in cities, often for a fee.
Alternate uses for garages
Edit
While home garages are primarily intended for storing automobiles that are not in operation, men frequently use them as storage facilities, D.I.Y. hubs, or out-of-sight locations for freezers and to store lawn care supplies. Garages have also been used for personal training, such as for body building and various exercises. A spacious garage is considered an ideal place for aspiring musicians to practice.
Ad blocker interference detected!
Wikia is a free-to-use site that makes money from advertising. We have a modified experience for viewers using ad blockers

Wikia is not accessible if you've made further modifications. Remove the custom ad blocker rule(s) and the page will load as expected.